The versatile Composite Matrix Helmet Mount is a durable and versatile accessory for Lezyne KTV Pro, Power XL, Macro XL, Hecto XL and Micro XL Drives. It is constructed with lightweight and durable mold-injected Composite Matrix material for its base plate and spherical pivot. A strong rubber and Velcro strap attaches the mount to the helmet. The Composite Matrix spherical pivot and cradle allow the user to adjust the position of the light in all directions.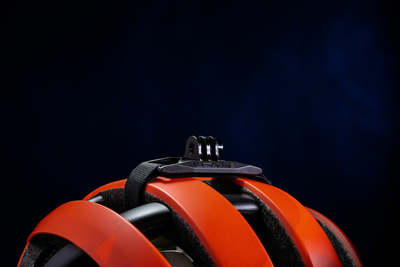 Lezyne helmet mount for LED bike lights or GoPro action cameras. Follows line-of-sight for optimized night riding or recording. Constructed from durable, mold-injected Composite Matrix construction. Easy to install Velcro strap fits virtually all helmet styles. Compatible with a large number of Lezyne headlights via the GoPro LED Adapter. - Composite matrix helmet light mount with strap system - GoPro adapter
Lezyne's Go-Pro LED Adapter allows you to mount your Lezyne LED light to any standard Go-Pro mount. This makes it fast and easy to switch swap out your camera and headlight using the same mount.